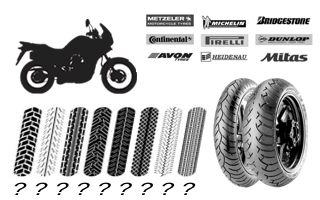 Cette application vous aide à choisir le pneumatique le mieux adapté à votre Moto. Sélectionnez votre véhicule et le module vous montrera le pneu moto que correspond le mieux à votre requête. Pour une utilisation sur la route, il est indispensable d'utiliser les pressions des pneus recommandée par le fabricant de votre moto. Vous le trouverez dans le manuel de la moto ou sur la machine elle-même. La pression de gonflage indiqué dans ces documents est la pression lorsque les pneus sont froids.

En utilisant cette application vous acceptez préalablement que myNETmoto ne peut être considéré comme responsable d'aucune erreur ou omission, ni ne peut être considéré comme responsable de n'importe quels dommages résultant du choix de pneu suggéré. En particulier, nous souhaitons.
CONTINENTAL CONTI GO!


The new ContiGo is designed to the same exacting standards as Continental's range of tyres for larger capacity machines, providing the discerning commuter with the same ride quality, stability and confidence. The ContiGo is designed to give [...]
(incl. VAT exkl. Shipping)
CONTINENTAL CONTI GO!


The new ContiGo is designed to the same exacting standards as Continental's range of tyres for larger capacity machines, providing the discerning commuter with the same ride quality, stability and confidence. The ContiGo is designed to give [...]
(incl. VAT exkl. Shipping)