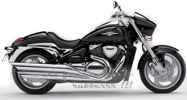 Cette application vous aide à choisir le pneumatique le mieux adapté à votre Moto. Sélectionnez votre véhicule et le module vous montrera le pneu moto que correspond le mieux à votre requête. Pour une utilisation sur la route, il est indispensable d'utiliser les pressions des pneus recommandée par le fabricant de votre moto. Vous le trouverez dans le manuel de la moto ou sur la machine elle-même. La pression de gonflage indiqué dans ces documents est la pression lorsque les pneus sont froids.

En utilisant cette application vous acceptez préalablement que myNETmoto ne peut être considéré comme responsable d'aucune erreur ou omission, ni ne peut être considéré comme responsable de n'importe quels dommages résultant du choix de pneu suggéré. En particulier, nous souhaitons.
BRIDGESTONE E-MAX


Select only the good factors from "EXEDRA" and mix them in the best balance to provide 4 major performances, such as "Milage", "Stability of straight riding", "Handling", "Dry & Wet Grip&rdq [...]
(incl. VAT exkl. Shipping)
AVON STORM


Storm 3D X-M - High performance plus extended mileage High performance plus extended mileage. The X-M version will deliver 15%-20% extra mileage compared to the current Storm range. Interlocking three dimensional points hidden in the sipes to improve [...]
BRIDGESTONE G 852 "G"


A newly developed Bridgestone motorcycle tires for heavy and powerful Tours - motorcycles. These new tires EXEDRA meet the high expectations of real Tour rider. The modern rubber compounds provide the liability and a very high mileage. To guara [...]
(incl. VAT exkl. Shipping)