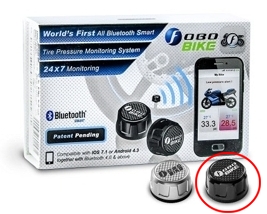 "black" - FOBO Bike is the worlds first all Bluetooth Smart advanced Tire Pressure Monitoring System (TPMS) for two wheelers and three wheelers.
FOBO Bike uses the latest Bluetooth 4.0 that works directly with your Android and iOS device. The main function of FOBO Bike is to monitor the air pressure and temperature of two wheelers & three wheelers like motorcycles.
more information cay you find here >>
mehr Informationen finden Sie hier >>
NEW PRODUCT !!!! in our shop 2016
Vous pouvez maintenant acheter / commander le en ligne sur la boutique fr.myNETmoto.com
Prix promotionnels ✓ Vous y trouverez également une vaste expérience ✓ Avis ✓ Kilométrage ✓ Testez ✓ sur ce pneu moto.

Si vous recherchez par type de moto, vous pouvez trouver des offres de paires, la pression (bar) des pneus recommandée et bien plus encore.